Provide access to rehabilitation care for all
Create customized programs and start monitoring your patients' progress by recording heart rate during physical exercise sessions.
Your new way of providing cardiac rehab
More patients treated, with shorter stays in care facilities, and with the promise of increased compliance with programs provided.

In-home cardiac rehabilitation
Ensweet is a telehealth platform offering a remote rehabilitation solution for patients with long term conditions.

Developed in collaboration with rehabilitation specialists, Ensweet's solution offers a new approach to the organization of follow-up care and rehabilitation to provide treatment to more patients, with shorter stays in care facilities, and with the commitment of increased compliance with the programs provided.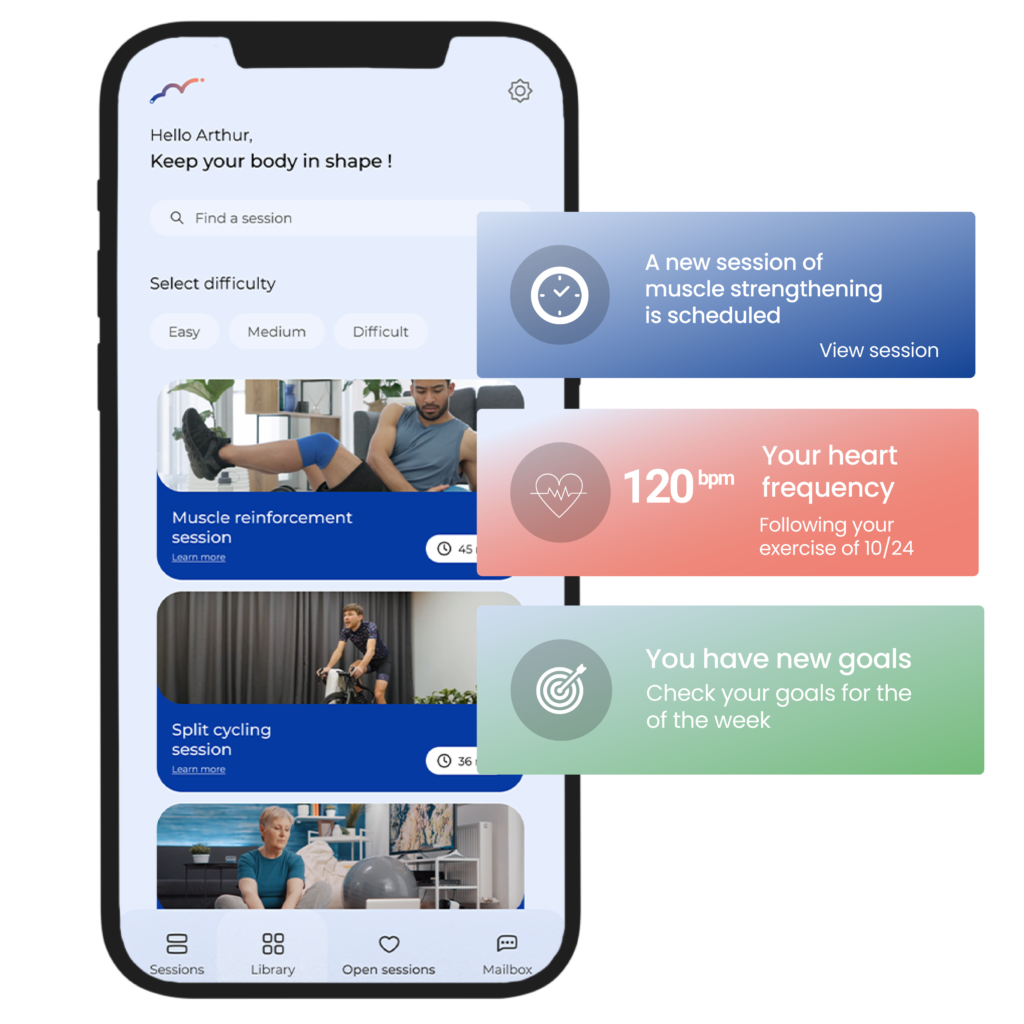 Remote rehabilitation in your center
With an average compliance of 80%* and more than 98% of satisfied patients, Ensweet allows care teams to better monitor their patients via an ergonomic and easy to use platform.
Becoming more autonomous and recovering faster has never been so accessible, no more need to go to a facility to carry out your sessions.

For healthcare professionals, Ensweet is an everyday ally that increases compliance, creates better results and provides quantified and data-driven results.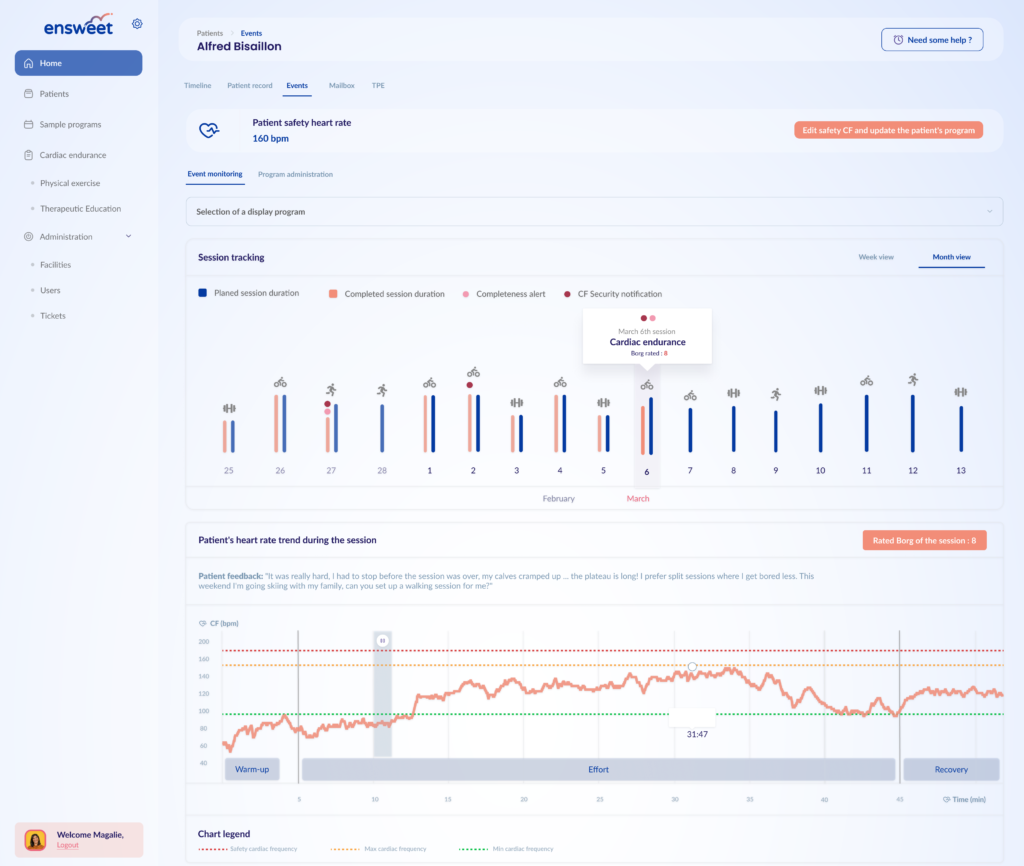 Why choose remote
cardiac rehabilitation ?
A more convinient and cost-effective alternative to classic rehab for caregivers and patients. 

Care center location
Traveling to a care center may not be easy. Remote rehabilitation allows to access the same level of care without having to travel.

Time constraints
Patients engage in their rehabilitation program from the comfort of their own home, which can be more convenient and easier to fit into their schedule

Limited mobilty
Beneficial for patients who have mobility issues that make it difficult or impossible for them to travel to a care center.

Lack of caregivers
Several centers report a lack of trained staff. Rehabilitation programs can still be provided even when understaffed

Professional constraints
Patients' professional obligations can be a barrier to rehabilitation. Working and healing at the same time is possible !

Psychological factors
Several psychological challenges may arise after a cardiac event, such as anxiety and depression.
In-home Cardiac rehabilitation proves its worth
In-home rehabilitation can be a good option for individuals who have mobility issues, live in rural areas, or have other challenges that make it difficult to travel to a care center.
*According to anonymised data collected from Ensweet users
Caregivers develop personalized treatment plan for each patient, which may include a combination of exercises and activities to improve cardiovascular fitness, strength, and flexibility.

Your customized program within the center
The patient is first received in a physical center to help them get started with Ensweet

Automatic management of notifications
Notifications are automatically delivered, both on the caregiver platform and the patient app.

Permanent contact with caregivers
Through its integrated messaging system, patients remain in regular contact with their caregivers

User-friendly interface
Ensweet was designed to be easily used by everyone

Content
library
Every Ensweet user has open access to the TPE content library, regularly updated by our experts.
Help your caregivers better manage their patients
Healthcare teams, via their caregiver interface, can easily configure and manage their patients' programs remotely. Just like traditional in-center rehabilitation, remote rehabilitation offers programs and performance monitoring, as well as ongoing contact with the patient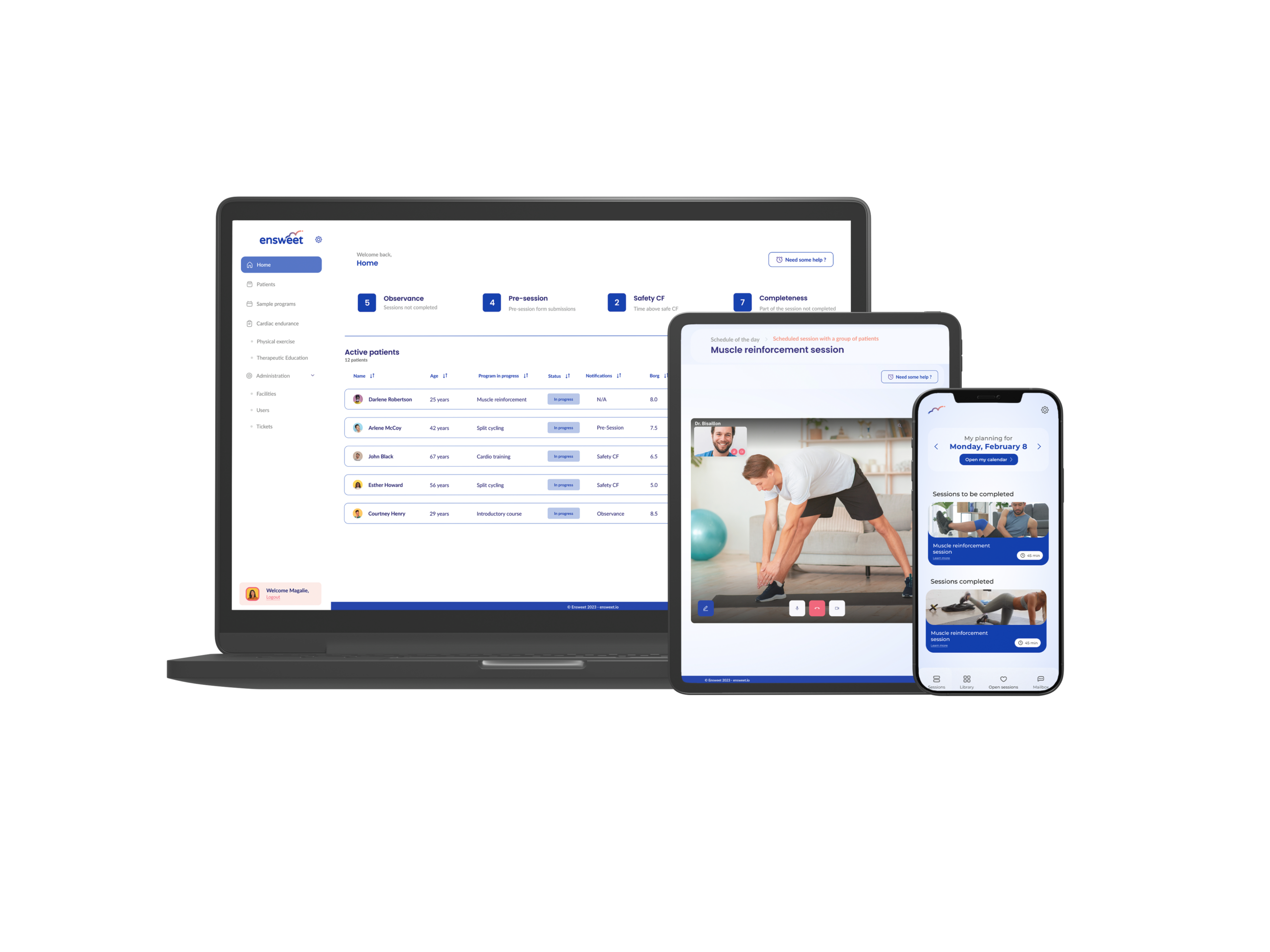 Ensweet users share their experiences
"I started using ensweet shortly after my heart attack, glad this solution exists because the nearest center is a 50 minute drive from my house"
"I totally recommend this solution for all the people who, like me, are working and cannot be off work to follow their rehabilitation programs. Ensweet saved my heart and my work !"
"We hesitated to implement this solution in our center because it is revolutionary. All our patients were happy with this new operating mode and even more so our caregivers: they now have much more time to do their daily work in good conditions"
"Remote rehabilitation is less expensive than traditional rehab and with exactly the same results. We are glad that we have included ensweet in our centers"
Frequently Asked Questions
Find answers to your most frequently asked questions
Try Ensweet and see how smooth remote cardiac rehabilitation can be
Help make rehabilitation care more accessible to all